March 24, 2014
Thirty-two.
There is a time-travel kit on my desk.
It was a gift, for my birthday last month, from a dear friend who knows me well. In it, there is everything you need — at least, everything I would need—for effective and pleasant time-travel. My friend thought of everything: my need to find my way, to keep myself occupied, to keep myself grounded, to help myself remember, to write back and tell my loved ones about all my travels.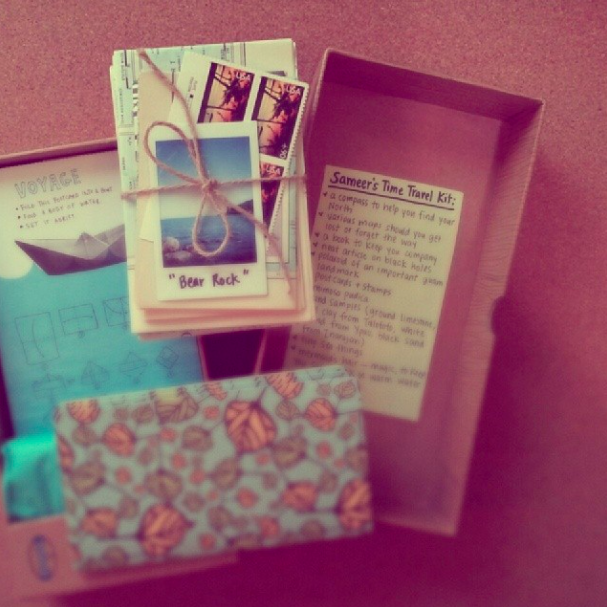 Here is an abbreviated list of its contents:
a compass;
various maps;
a book for company;
an article on black holes;
postcards and stamps;
land samples;
magic mermaid's hair for safety;
a letter.
There was more, and each one carried a significance that I won't describe here. Needless to say, it was more than thoughtful: it was exactly what I needed.
I've been thinking a lot about time-travel, recently.
My friend Christine, the one who sent me the time-travel kit, is the best letter-writer I know. Her correspondence isn't glib, like mine so often can be; she tells vivid stories that make me believe I am there, with her experiencing the same moments, the same memories she writes about in her letters. There is a delight that comes from opening the envelope when I see her return address.
I am conscious that these letters she writes — letters that many people write to me and I to them—are little slices of time-travel. They are stories that people have lived, once, in the far or recent past, that they have then transcribed onto paper and sent my way with a few postage stamps. I read them, often days, weeks, months, years of the passing of those stories; I live each experience as if it were new, because they are each new, at least to me.
Those words on pieces of paper that arrive in my postbox regularly—they are my time-travel. I cherish them.