October 11, 2019
We didn't have a
TV

set, but I still had Sesame Street

We didn't have a television when I was really young, but that doesn't mean that I didn't get to watch TV.

Our neighbor down the hall in our building was a good friend of my mom's, and she had a small television in her apartment that she rarely used. Some days, I'd sneak into her unit—she always knew I was there, but I thought I was being surreptitious—and turn on the TV set while our neighbor was cooking, or doing some other household chore. There, I'd sit transfixed for half an hour before having to run back home.

The television was always set to PBS; I don't think she even could get any other channel. I learned the times of the day when I could expect to watch Sesame Street and Mister Rogers' Neighborhood and would dutifully head to her apartment to watch them as many times in the week as I could. They were shows that, as a new immigrant child in a family who was doing their best to survive in a new country, made me feel like I belonged.

My grandparents and parents were amazing teachers, but so were the people who wrote, directed, and starred in those two PBS shows. They helped turn me into the man I am now, and I am eternally grateful.

Maybe that's why I'm so heartbroken to hear that new* episodes of Sesame Street were going to be locked up behind HBO's new paywalled service. By being free on PBS, Sesame Street was available to kids like me, kids who have to sneak into their neighbor's apartment to see a world populated by muppets and kids who looked like me and people of all shapes and sizes. Being free on PBS made Sesame Street the great equalizer: it was something we could all share in, as long as we could find access to somebody's television.

Locking Sesame Street up behind a paywall means that some kids will get to watch it, and others won't. As a child who would have been in the latter category, I'm sad for all the wonderful moments that some children—children like I was, back then—will now have to miss.

(* UPDATE: Yes—as many people have screamed at me about online within minutes of publishing this—I'm aware that episodes will be made available to PBS some undefined time after their release on HBO Max, but the point remains: if I don't get to enjoy an episode of Sesame Street at the same time as someone who has the means and privilege to have the streaming service, it's no longer the great equalizer it once was. That's the point I was trying to make, and it seems like many people seem to have missed that, so I probably didn't make it well enough. I'm sorry—now please stop screaming at me.)
---
A poem
The Maenads
Ursula K. Le Guin
Somewhere I read
that when they finally staggered off the mountain
into some strange town, past drunk,
hoarse, half naked, blear-eyed,
blood dried under broken nails
and across young thighs,
but still jeering and joking, still trying
to dance, lurching and yelling, but falling
dead asleep by the market stalls,
sprawled helpless, flat out, then
middle-aged women,
respectable housewives,
would come and stand nightlong in the agora
silent
together
as ewes and cows in the night fields,
guarding, watching them
as their mothers
watched over them.
And no man
dared
that fierce decorum.
---
Some links
This is important: "If you want to actually make life better, more livable, less of a slog for yourself, that involves making it better for a whole lot of other people as well."
Michael Chabon steps down as Chairman of the MacDowell Colony's Board of Directors: "And what is that truth, the truth of art, that freeing blade, that slaking drink in the desert of the world? It's this: You are not alone. I am not I; you are not you. We are we. Art bridges the lonely islands. It's the string that hums from my tin can, over here looking out of my little window, to you over there, looking out of yours."
We are in Portugal as I type this, so it is fascinating to read about how so many foods around the world were influenced by the Portuguese.
Speaking of being in Portugal: I've been enjoying anchovies every single day since we've arrived here, and plan to for the whole trip. I was always mocked growing up for my love of anchovies, but this piece in the NYTimes is an excellent look at why these fish are so good, and why we should be embracing them.
I'm delighted that J. Kenji Lopez-Alt has joined the NYTimes, and I'm especially delighted that his first piece was about my favourite thing to do in the kitchen: boiling eggs.
"If we are wringing our hands about sex on Euphoria, what we may be bristling against is a cast of young women who do what they want with their bodies, within the constraints misogyny has placed on their available choices." Watching Euphoria made me afraid for young people and the lives they live today. But: also buoyed by their strength?
Wesley Morris loves Gwyneth Paltrow. (As an actress.) And after reading this, I kinda love her too.
So many of Taleeb Noormohamed's experiences growing up as a brown person in Canada echo almost exactly to my own.
I've been re-reading some Edward Said recently, so this piece was timely: On Justin Trudeau, Virginia Woolf, and the Orientalist History of Brownface.
I'm a huge fan of going to bars and restaurants alone, so I'm glad that Food52 is now hosting a column on drinking out alone.
Filmmaker Rachel Fleit reimagined "some of the most iconic movie scenes of the 20th century as seen through very 21st century technology, i.e. hidden or inconspicuously-placed cameras—transforming the familiar pop culture classics into anything but."
I cry at almost every podcast (and movie, and tv show, and basically anything that has a modicum of human emotion), but for the more normal people in the audience, this list of 66 podcasts guaranteed to make you cry is an excellent one.
I can't stand kale—give me a spinach salad any day—and it looks like most of the people around us don't like it, either.
The story of the Balloon Boy was everywhere in the media, but fizzled out so quickly. This look at where the family is now is fascinating.
Watched the Hustlers movie last week (J-Lo was so good!), so it was a perfect time to re-read the article that inspired the movie's story.
What books will we still be reading in ten years? Hard to argue with most of this list.
This article—The Octopus: An Alien Among Us—pairs well with this video of an octopus changing colour as it dreams:
Jessica Wynne has been taking photos of mathematicians' blackboards for the past year or so: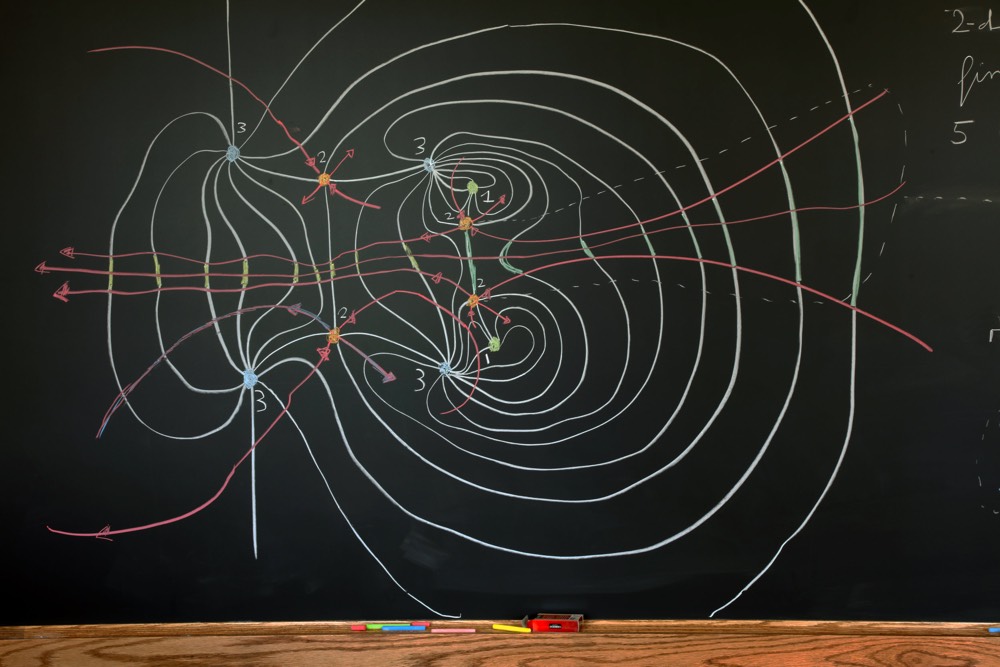 Criticism in the age of TikTok:
Last month I went to @miffofficial and learned all about TikTok ⏰ Now I've made a video essay for @sightsoundmag on Gen Z's favourite app 📱 and how it could be an amazing platform for criticism ✏️ (but isn't, just yet) pic.twitter.com/YFC5mHdsLR

— Charlie Shackleton (@charlieshack) September 29, 2019
We saw Little Shop of Horrors earlier this summer as part of the Stratford Festival, and just finished watching the first season of Pose, so this rendition of "Suddenly Seymour" by MJ Rodriguez and George Salazar is right up my alley:
Cherish and remember your childhood joys this weekend, my friends. I'll be back in touch soon.
---
Get weekend reading posts in your inbox: subscribe to the fortnightly newsletter.