January 31, 2020
That's okay
Some days, you have nothing to say. And that's okay.
Some days, you have so much on your mind and can't figure out how to get it all out in a way that makes sense. And that's okay.
Some days, you're too tired to have insight, too exhausted to exercise your thoughtfulness, too overwhelmed to find the calm that it takes to write. And that's okay.
There are so many other people with things to say; sometimes, it's best to just be quiet and listen. That's okay.
---
Two poems
Nostos
Aria Aber
Lately I've been moved by how
the skeletons were found: skulls with cloth
around the eyes, wrist bones tied by rope—
a miracle that fabric (what color
was it, what material?) has touched,
even witnessed, the suffering of those
two thousand men, who stood naked
with their eyes bound and were raped before
they were shot. Among them we suspect
lie my great-grandfather's
and my mother's youngest brother's
remains. What is it with the disappeared
that survival, this dumb extravagance, insults us
so? I felt nothing when I slayed the Hajis,
my student, an ex-Marine, wrote.
In fact, those barbarians fell easy, like buildings
in Mazar-e-Sharif. What could I have
said? I praised the urgency of subject,
her apt simile. To fight, you understand,
was aimless. I've been primed for this,
for disappearance, for all my life. I dreamt
of my student that night, her voice muscling
the soft framework of memory, whistling
Leiche, Leiche, Leiche. Dearest, I wonder why
in English the body is both dead
and alive, but I know the blight of grief
has a heart and thus will love, and learn, and thusly
learn to hate—I want to believe that he, too,
settled porous into the light. He was twenty-one
when they took him in for questioning.
My uncle, I mean. Do not return, my mother
shouts from her sleep. Do not
return. His eyes were green.
— — —
Mayflower Cistern I Feel My Pilgrim Worry
Gabrielle Calvocoressi
All day long I feel my pilgrim
worry. Crude and unforgiving
as the buckle on my boots. I mark
the boundaries of the town
and then I build a fence. I build
a pillory and scaffold. I bring
my gun into the forests.
And my axe. Inside me. I hurl
my brittle body at the pines.
I have a plan for them. A way
to make them useful, which
is God's compact with the world.
Whatever does not welcome
me I tear asunder. Whatever
welcomes me was mine to
sack and bring to my knees.
I give the gift of my hunger
to everyone. And then
I build a fence. The doe
is certainly a sorceress.
The sparrow was the woman
smiling into the mirror
of the well. What will I make
of this country? Inside me.
My pilgrim huddles in the corner
of my heart. Which I hate
for its hopeful sounding.
Its unwillingness to know
the truth of how broken
and beyond salvation it is.
---
Some links
I Have Everything, But I'm Still Sad and Angry, Heather Havrilesky:
Your monster is your friend and ally. Your monster is your mercurial, ravishingly beautiful lover. When your monster speaks, her voice is a sublime, melodious river. When your monster moves, it's like watching light dance across water. Your monster wants to bring the sensual pleasures of just being alive — breathing, walking barefoot through wet grass, feeling a smooth stone in your palm — to your attention. She wants you to feel grateful, too, but she wants you to feel everything else first. She wants you to feel everything.
the wages of productivity, Anne Helen Petersen:
Is watching movies, going to yoga, and listening to podcasts work? Of course not, not technically. A whole lot of people would love to feel pressure to watch more television instead of being forced to spend those hours in the workplace. But when it comes to feel like the only way to buy a ticket into your aspirational class, it doesn't feel like a choice, but an obligation: a form, however unpaid, of labor. Which explains why "relaxing" by engaging in these activities can feel so exhausting, so unfulfilling, so unrestorative.
Our bodies spun / On swivels of bone & faith, / Through a lyric slipknot, Stacy-Marie Ishmael:
This is not how grief works. This is not how people process trauma. You do not, in the moment when you are hurt, immediately and necessarily engage in the intellectual exercise of measuring your pain against some global scale of injustice. You do not, when you have been hurt and are feeling hurt afresh, consider all the reasons your experience might be of no moment to someone else.
The Incantation of D'Angelo's 'Voodoo', Naima Cochrane:
The Avengers-esque origin story of Voodoo is part of the album's power and mythology. The project inspired the formation of the Soulquarians collective, a superhero music taskforce that began with D'Angelo, Questlove, J. Dilla and James Poyser (all Aquarians), taking over the long-dormant Electric Lady Studios — former studio home of Jimi Hendrix — to create something new and real. The crew expanded as Common and Erykah also camped out at Electric Lady to work on their upcoming projects, and other collaborators including Q-Tip and Raphael Saadiq fell through in regular rotation. Quest, D and camp went full music nerd, using the studio's vintage equipment and keeping everything as organic and analog as possible to create a retro energy and sound. They studied old performances of Prince, Stevie Wonder and other Yodas - their name for the masters - obsessively, channeling the spirits of their heroes. Voodoo was the start of a legacy.
Dealing with 'Friendship Overload' in the Age of Social Media:
Part of the reason our digital friendships can start feeling too much like work is because of the ways our professional and personal communications intersect. They can often happen at the same time, in the same place, and on the same platforms. We're so used to feeling overburdened at work that, when we get another ping of a message, our immediate instinct is to think "what now?"
Three Things I've Learned in My Local Coffee Shop:
Third places—that is, places where people can enjoy the company of others outside of their workplaces and homes—are critical to the well-being of our neighbourhoods. From public parks and libraries to pubs and playgrounds, these places are impacting our localities in both subtle and significant ways. For our communities to thrive, we need third places where ideas can be shared, where everyone is welcome to belong, and where relationships, over time, can be fostered.
America Has Never Cared About Sacred Sites, Nick Martin:
The U.S. government has never given a damn about the sites, items, or natural beings Native people hold dear. Likewise, it has rarely shown actual care for the lives of the people protecting them. It's in part why Congress has never recognized America's past slaughtering of Native people as the genocide it is.
On hands, Sharanya:
The hand travels constantly. It panders to the atmosphere that it wades through, like a weary traveller in ease. It hesitates around fire. It lingers on cheekbones and descends to the lips of someone you may never touch with such intimacy again. The hand bridges. Touch's work is ever ongoing, and ever unfulfilled.
The Peak of Domesticity Is a $300 Stand Mixer, Amanda Mull:
My urge to make soup, in other words, was not a matter of familial inheritance. It came from the internet, where YouTube and Instagram have helped change how young Americans think about food, recasting it for some as a marker of progressivism and sophistication. Along with those changes, the finest tools of the trade have taken on a newly prominent role in the lives of aspiring cooks. Colorful cast-iron cookware by brands like Le Creuset and the retro, brightly hued stand mixers by KitchenAid aren't just culinary workhorses; they've become small markers of stability and sophistication, coveted by young people for whom traditional indicators of both often remain out of reach.
Official posters for the Tokyo 2020 Olympic and Paralympic Games: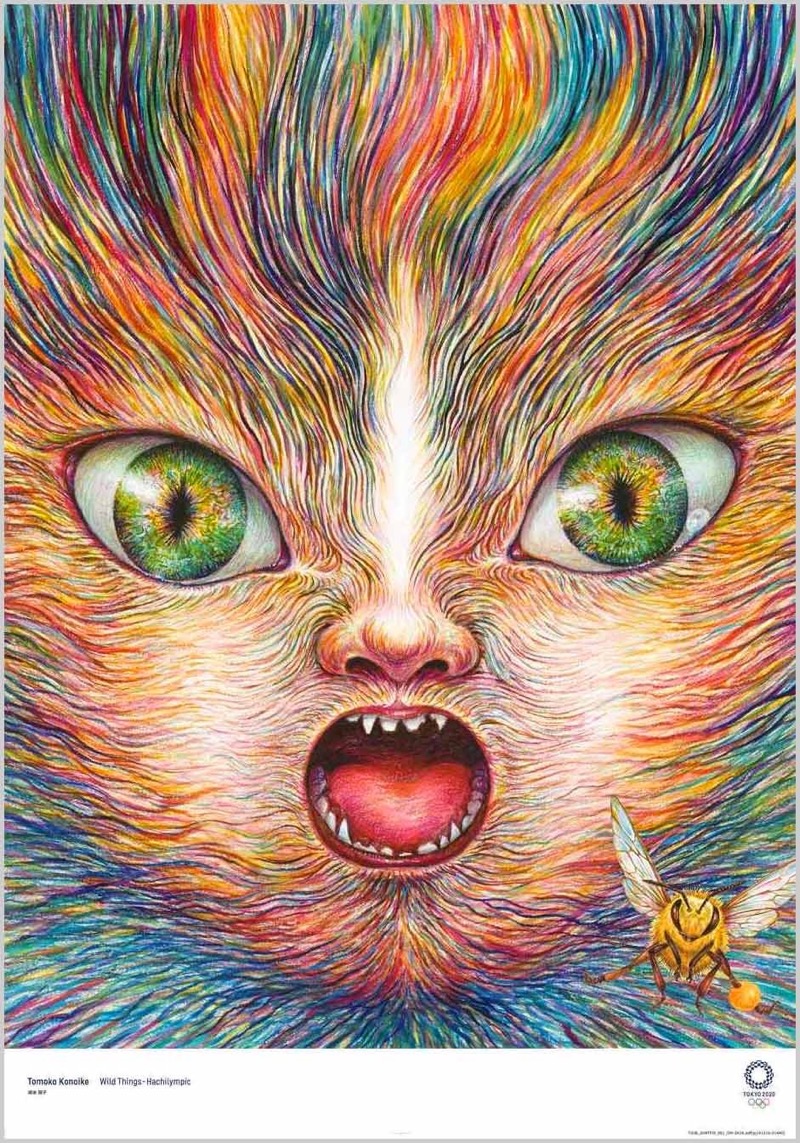 Mixed-media paintings by Golsa Golchini: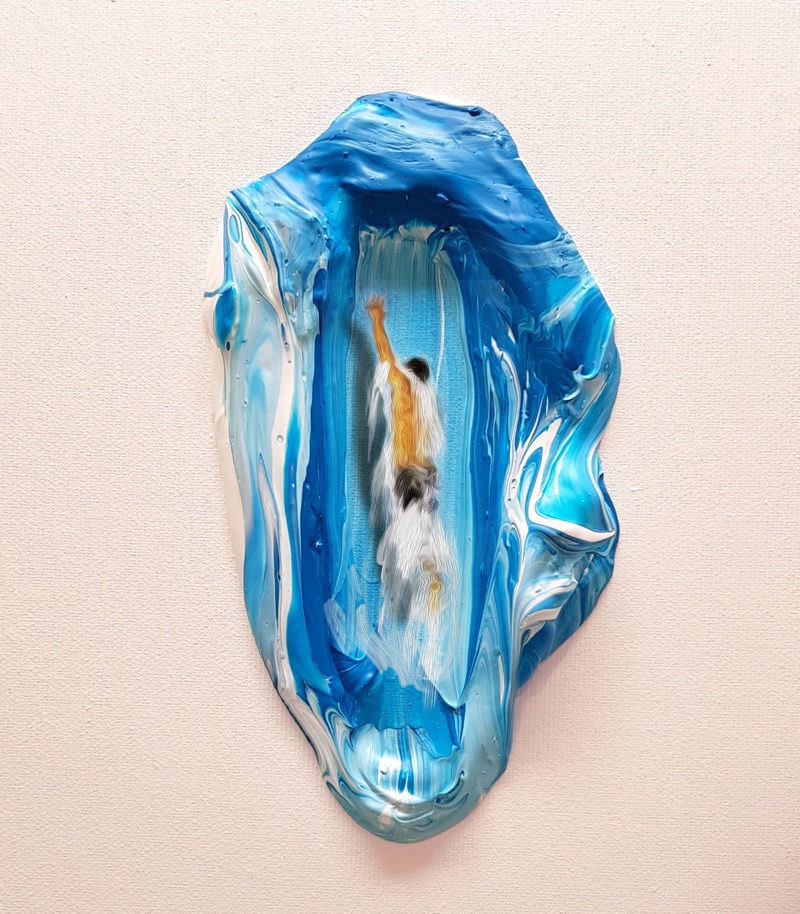 And a few more:
---
Get weekend reading posts in your inbox: subscribe to the fortnightly newsletter.