October 13, 2017
Changing times.
We spent (Canadian) Thanksgiving weekend in Vancouver, enjoying the wonderful company of family and friends, and an over-abundant amount of delicious food.
Instead of rushing home after a quick visit, we decided to stay on the west coast for a few more days—we returned home only late last night—to soak in the ocean and the mountains and appreciate the change of scenery for just a little while longer.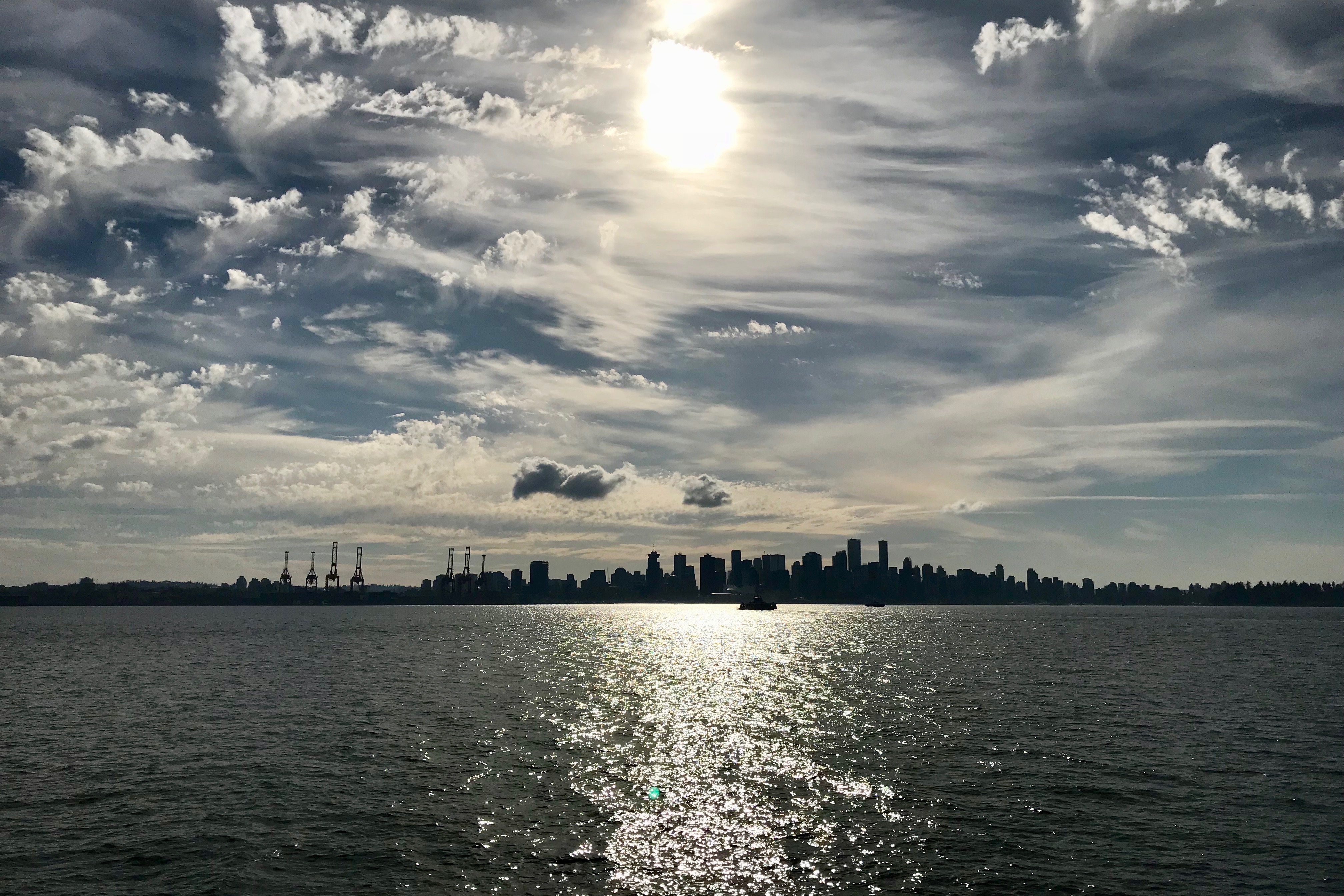 My in-laws' breakfast table became my office, the chirping budgie Figgy became my co-worker, and the kitchen espresso machine served as my coffee stop. I woke up at 5am and began work half an hour later to make sure I was starting the day with the rest of my colleagues in Ontario, a three-hour time difference away.
The time-shifting of the work day has its ups and downs: being in front of the computer at 5:30am may be unpleasant, but having afternoons free for exploration is delightful. While out west, my afternoons were filled with visits to the Museum of Anthropology and the Vancouver Art Gallery, and strolls in the Capilano Canyon and by the Shipyards.
I'm back to a normal schedule now, back to the Eastern time zone, back to afternoons of meetings and writing and editing. I love my work so I'm happy to do it, but I am already planning my next trip out west in a few months, excited for the time-shifting and afternoons of exploration.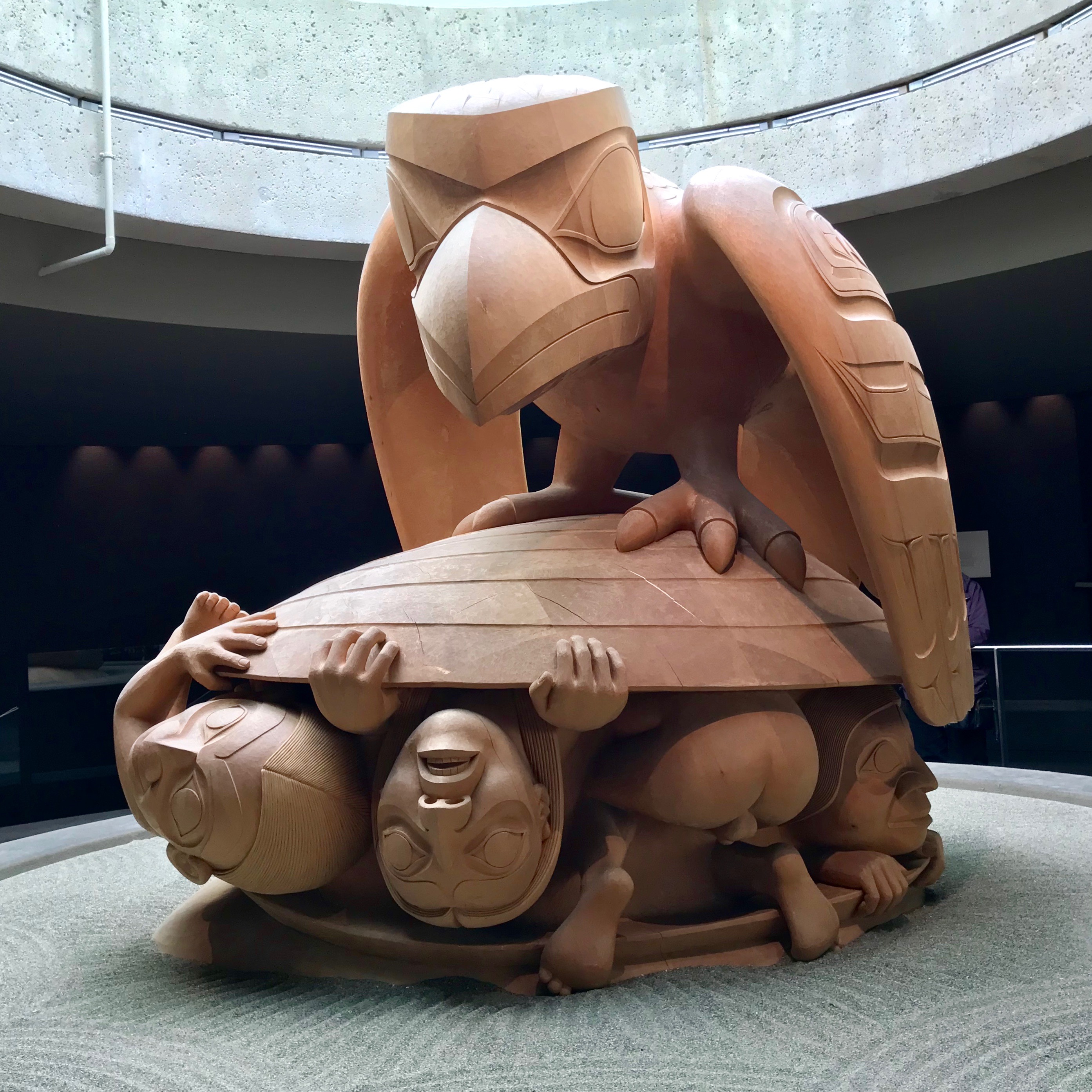 ---
A few things to read and explore:
Work and the Loneliness Epidemic, Vivek Murthy:
Loneliness is the subjective feeling of having inadequate social connections. Why has this feeling increased over past decades? Partly because people are more geographically mobile and are thus more likely to be living apart from friends and family. Indeed, more people report living alone today than at any time since the census began collecting this data. In the workplace, new models of working — such as telecommuting and some on-demand "gig economy" contracting arrangements — have created flexibility but often reduce the opportunities for in-person interaction and relationships. And even working at an office doesn't guarantee meaningful connections: People sit in an office full of coworkers, even in open-plan workspaces, but everyone is staring at a computer or attending task-oriented meetings where opportunities to connect on a human level are scarce.

Happy hours, coffee breaks, and team-building exercises are designed to build connections between colleagues, but do they really help people develop deep relationships? On average, we spend more waking hours with our coworkers than we do with our families. But do they know what we really care about? Do they understand our values? Do they share in our triumphs and pains?
The Erasure of Islam from the Poetry of Rumi, Rozina Ali:
The erasure of Islam from Rumi's poetry started long before Coldplay got involved. Omid Safi, a professor of Middle Eastern and Islamic studies at Duke University, says that it was in the Victorian period that readers in the West began to uncouple mystical poetry from its Islamic roots. Translators and theologians of the time could not reconcile their ideas about a "desert religion," with its unusual moral and legal codes, and the work of poets like Rumi and Hafez. The explanation they settled on, Safi told me, was "that these people are mystical not because of Islam but in spite of it." This was a time when Muslims were singled out for legal discrimination—a law from 1790 curtailed the number of Muslims who could come into the United States, and a century later the U.S. Supreme Court described the "intense hostility of the people of Moslem faith to all other sects, and particularly to Christians." In 1898, in the introduction to his translation of the "Masnavi," Sir James Redhouse wrote, "The Masnavi addresses those who leave the world, try to know and be with God, efface their selves and devote themselves to spiritual contemplation." For those in the West, Rumi and Islam were separated.

In the twentieth century, a succession of prominent translators—among them R. A. Nicholson, A. J. Arberry, and Annemarie Schimmel—strengthened Rumi's presence in the English-language canon. But it's Barks who vastly expanded Rumi's readership. He is not a translator so much as an interpreter: he does not read or write Persian. Instead, he transforms nineteenth-century translations into American verse.
Every Body Goes Haywire, Anna Altman:
It's hard to believe that a headache, something so seemingly benign, can so radically and quickly change your life. But if you read about migraine prognosis—in neurology journals, on chronic pain blogs, in the New York Times—you'll find studies indicating people with migraines have poorer social interactions and emotional health than patients with asthma, diabetes or arthritis.

This is hard to communicate when you appear to be young, healthy, and able-bodied. "To be recognized as disabled, we have to remind people frequently of our needs and limitations," writes Wendell of women who suffer from chronic, invisible disabilities. The struggle for recognition is constant, even among the most compassionate: "Some people offer such acceptance readily, others greet every statement of limitation with skepticism, and most need to reminded from time to time."

When the pain is terrible, I call my mom.
The power and politics of the black barbershop, Jason Parham:
Men enter the barbershop for untold reasons, and sometimes a haircut is the least of them. We aren't expected to be beautiful. It isn't a label typically ascribed to the physical markers of male identity. Despite measures of progress in the media, which conditions much of how people are perceived — I'm thinking of films like Moonlight and texts such as Jesmyn Ward's Men We Reaped and Danez Smith's [Insert] Boy — beauty, for all the dimension it possesses, is not how society, on the whole, understands manhood. For black men, this can be especially true.

So you begin to wonder if the world had seen Philando Castile or Terence Crutcher or Jordan Edwards as beautiful, perhaps they might be with us today. We are desperate to be rendered visible. We want to be acknowledged by others, assured and held tight. In the heritage of American horrors, black men and boys have paid a particular price for this desire to be seen — and all for what? To be granted some semblance of selfhood, of humanity. It is rarely spoken, but I think men enter the barbershop seeking a form of beauty, be it in their physical appearance or their inner self. Maybe it's clarity with regard to a personal issue, or the ease of fellowship the space provides. Maybe after a burdensome week, you are in need of release among your tribe. These are intimacies camouflaged in a simple request: Look at me.
Jessica Hische was asked to create artwork about what happens when you have to cancel your wedding. Her anti-invitations are lots of fun:
And a few more: